Musik.pm is about music and the experience of music. One aspect of such experiences is the circumstances where we meet with music. This article features and compares two very different contexts – contexts that I appreciate very much. The two contexts address very different preferences in terms of enjoying music. They are so different from each other that they seem to reflect different kinds of personalities. However, both preferences are mine. How can that be?
Our Saturday night dinners
We are at home. It is Saturday and dinner is prepared. With food, wine and music. With memories, plans and hopes. With ideas and emotions. My wife and I know that we will have enough to enjoy and discuss for the rest of the evening. We commence the meal by tasting the wine, and then we are on our way.
Like people in general we talk about everyday planning issues, family, friends, society, culture, politics, etc. Our associations of thoughts lead the conversation forward. However, music is an essential part of our dinner, not only to colour the atmosphere. Many songs recall memories of concerts and performances that we have attended. Such as Melody Gardot and Kurt Elling in Molde, Diana Krall and Keren Ann in Paris, Gin Wigmore in Munich, the Sant Andreu Jazz Band in Barcelona, Cécile McLorin Salvant in Oslo, Mariza and Carminho in Gothenburg etc. Many memories stem from experiences in the fado houses of Lisbon with performances by fadistas like Lina, Maria Ana Bobone, Joana Amendoeira, Pedro Moutinho, Rodrigo Costa Félix and many more. Music by those musicians that we have met on a personal basis brings special memories.
Sometimes our conversation leads us to have a look at a musician's tour schedule. If we find an interesting concert at a time and in a place that is convenient to us, plans are sometimes made, and concert tickets might be bought before the meal is over.
But music also makes us travel in our minds to cultures and countries that we have not visited, and probably never will – Cap Verde, Brazil, Argentina, Mexico and other countries that are hard to reach from our country in a climate-friendly way.
Some of the music we listen to comes from our CD collection. The rest is easy to access through streaming services. There, we can choose to listen to an album or a playlist with a collection of different musicians.
When we let the streaming service lead our way from a starting point that we have chosen ourselves, such as a playlist with favourite music, the streaming service adds more music for us to listen to – a mix of songs that we already know and songs that we have never heard before. Some of the new ones are fabulous, and we add them to our playlist. If it is a newfound artist, we can investigate that artist further another day. Therefore, a musical dinner can become a night of musical expansion.
Often the music addresses us in a way that calls for a response. Our responses might have the form of a question or a comment. "Who is this now again?" "That harmony was beautiful!" "This sounds like X!" "I must find out who that singer (or instrumentalist) is! "This band has brought us so much joy!" These responses interrupt the current subject of our discussion for a minute or two, and sometimes the interruptions put us on new conversational tracks. It is as if we are three individuals around the table – my wife, myself and the music. Creating atmosphere, yes, but the music is not like wallpaper. It is a living thing, communicating with us.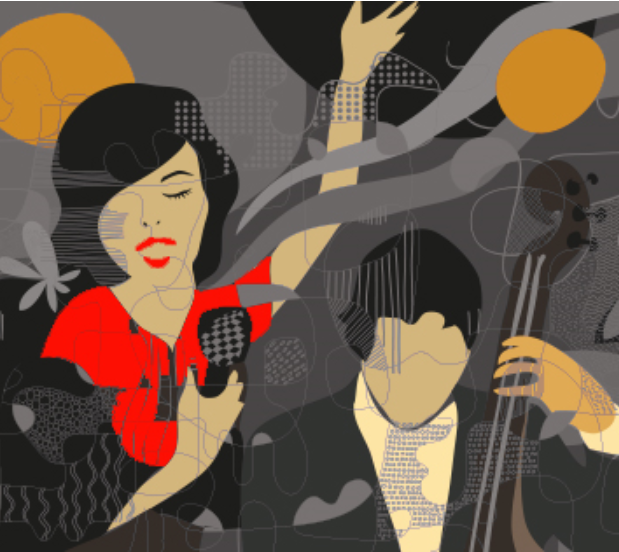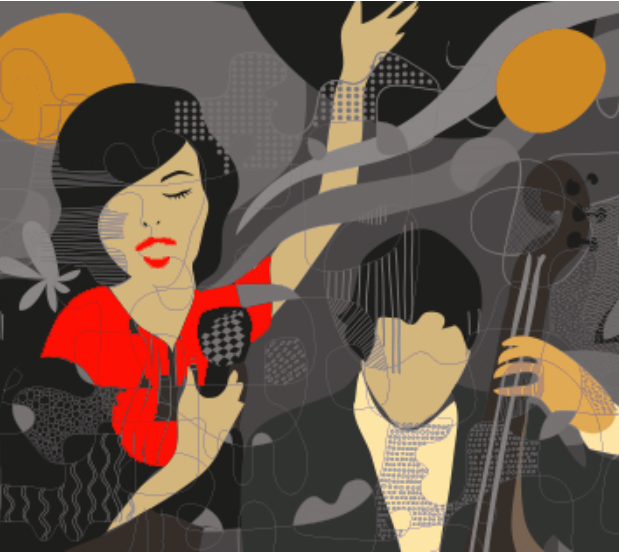 A fado experience
Now for something completely different. This is an excerpt from my article A fado experience from 2016. My wife and I had come to experience fado in the world capital of fado, Lisbon. But as we started our first visit to Portugal by spending a couple of days in Porto, it so happened that the first fado house we visited was there. This is the story.
It is the 25th of October and we go to Casa da Marinquinhas, a fado house that a Facebook friend who is herself a fadista has recommended.  It is not easy to find the place among the irregular small streets and alleys alongside central Porto. The houses are very old and there are not many people in the sparsely lit streets. If it had not been for the recommendation, we would probably have avoided that part of the city at night-time. But, once there, we are warmly welcomed and invited to our booked table.
After four hours we have had a tasty meal interspersed by at least six performances by different fadistas, male and female, and two guitarristas. The man who seems to run the place is strict in his design of the fado experience. Food is ordered and served in sequences to fit in between the performances. Before every performance the lights in the small restaurant go down, and only a couple of tiny spotlights light up a small spot in the centre of the room. There is no stage. The musicians are on the same level as us. It is totally quiet. No one continues to eat, and we are all focused on what is going to happen.
And then one of the most beautiful combinations of instruments – the Portuguese and the classical guitar – starts to colour the background of the fado song. Soft, but nevertheless energetic. They do so with a delicate fabric of tones in which it is sometimes difficult to distinguish who is contributing which thread. Still, the different sounds of the two guitars are very distinct.
After a short and beautiful guitar introduction, often with a bittersweet colour, the fadista starts to sing. And the song is no less beautiful. The fadista tells the emotional story (most often a sad one) with a strong expression, closed eyes, and he/she does not open them until a storm of applause releases the tension of the fadista and the audience. There is never a second of silence between the song and the applause. It is as if the concentration of the strong emotions that the fadista and the other musicians create is released when the last forceful tones of the guitars and the fadista are hit.
As the experienced visitor of fado houses now realizes, this is not a description of what goes on only in Casa da Marinquinhas, but with variations in every fado house. At its best the fado experience is created in a close relation between fadistas, guitarristas and fado house guests. Fadistas sometimes say that they need the community with the audience to create genuine and honest fado. Guests are sometimes informed that "you and your silence are important parts of the fado experience".  This message has two parts. It means that the guests of fado houses are co-creators of the fado experience – but also that the guests cannot be co-creators if they disturb the fadistas, themselves or other guests by talking, eating, or just being focused on something else than the performance. Fado is serious business, and if you are not interested in participating on these terms you should probably do something else. It might sound a little bit too strict to some of you, but why not give it a try? You will be rewarded.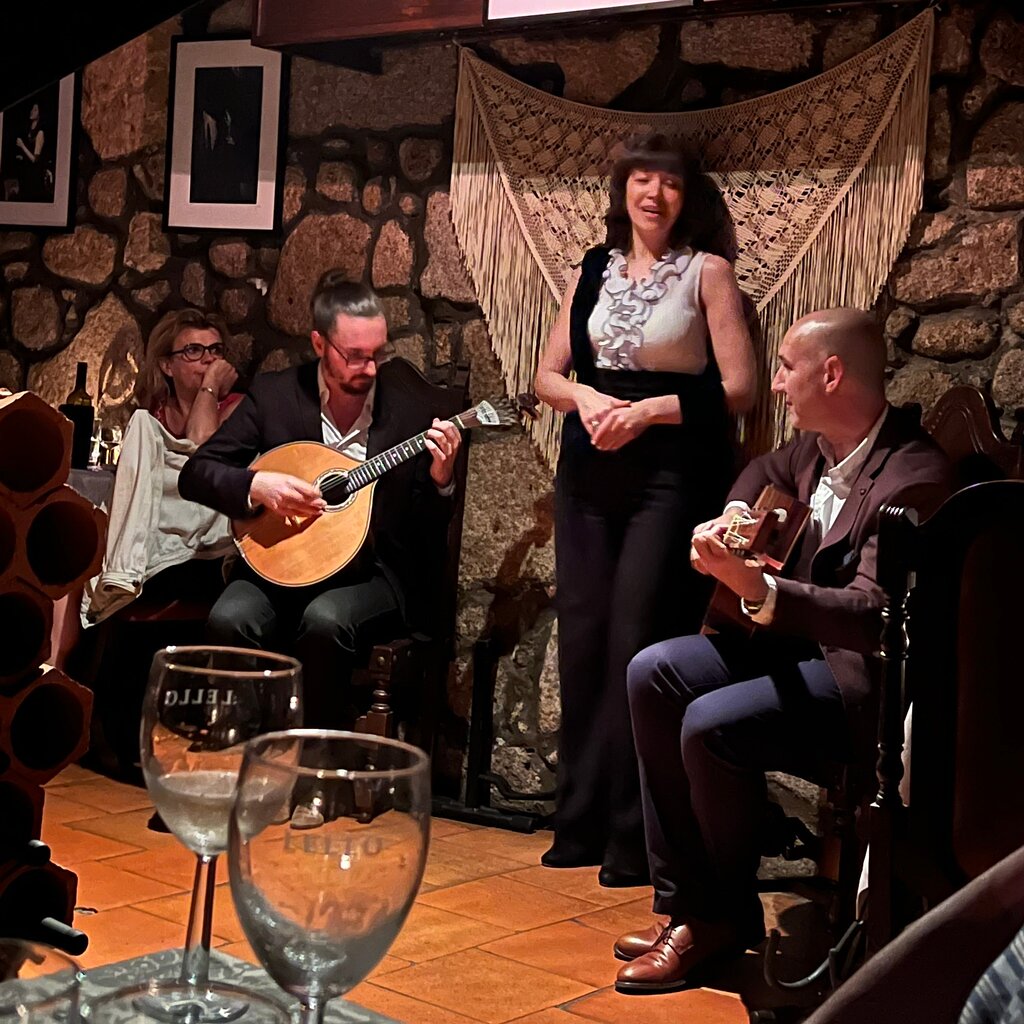 The puzzle
If I very much appreciate the strict separation of conversation and eating from the music performances in a fado house, why do I enjoy that my wife and I always listen to music while having our weekend dinners, with a lot of conversation? Could it be a matter of the presence or absence of fado music? No, there are frequent examples of fado music during our dinners, and my preference for separating conversation from music is not limited to fado houses. It is valid for any restaurant with music performance, and of course for performances in concert halls.
However, the conditions of our Saturday dinners point to several other possible explanations. We are only two people, and we both feel that this is a pleasurable way to be together. Being only us in the room, we do not disturb anyone else and no one else disturbs us. The music we listen to is recorded music. If we had invited musicians to perform in our home, we would of course not have disturbed the interaction between the musicians and us by talking or eating.
Our musical taste, and our experiences of music are about the same. We appreciate listening to our old favourites, and we appreciate widening our experiences of music. We know each other so well that the music does not demand a high level of split focus capability for us to be able to enjoy the music while talking. Whenever we feel that the music needs a higher degree of attention, we can within an instant give that level of attention.
I do not claim that the experience of music is the same during our dinners at home as it is at a fado house or in a concert hall. It is something else, but it has qualities that I cannot find in a fado house or at other kinds of live performances. So, I would not like to live without the kind of dinners with music that we have at least once every weekend – and I would not like to live without experiences like those in a fado house or a concert hall.
Musik.pm after hours
If you want to share some of our music experiences, here is a link to one of our play lists on Spotify. Just click the image below and enjoy!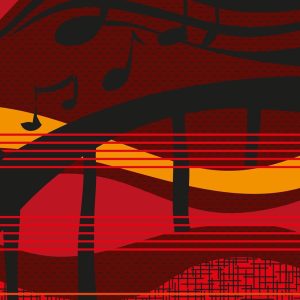 Songs from this list will from time to time show up on the Facebook page and Twitter account of Musik.pm.