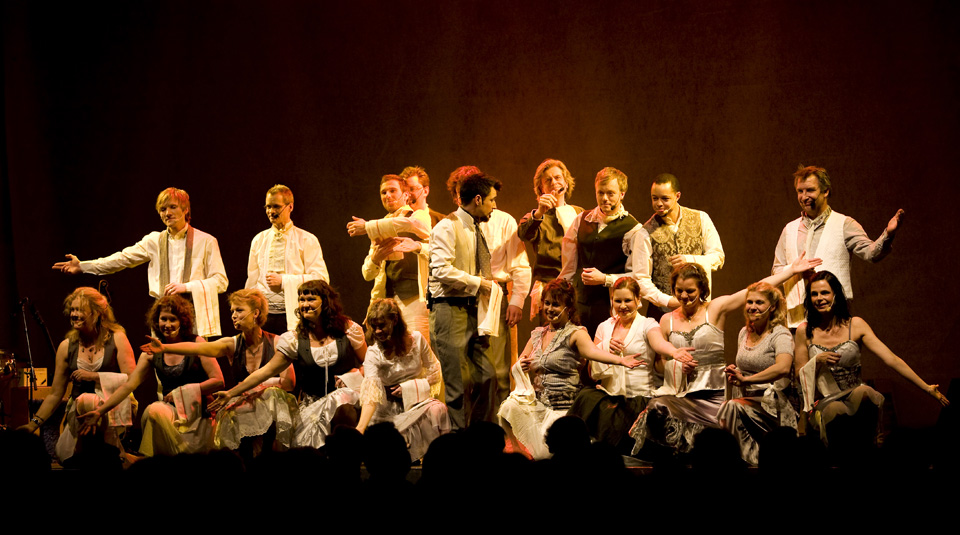 We first encountered The Vocal Ensemble Amanda (Sångensemblen Amanda) in the 1990s at the jazz club Nefertiti in Gothenburg. The performance was completely different to anything that my wife and I had experienced before.
The song that sticks most in my mind is Lennon and McCartney's "Come Together", interpreted in a spectacular way. The dynamic arrangement and harmonies of some twenty singers were breathtaking, but that was not all. The singers combined their singing with a very expressive choreography. Together they created the illusion of a living and moving organism, from which individuals from time to time stuck out as parts of the organism, reaching towards us. The group created this illusion without the disguise of any shared covering – it was just their bodies moving together.
The show was the start of our relation to Amanda. The group is still very much active and we recently had the opportunity to interview three of its current members – Johan Hogenäs, Sanna Källman and Karin Marmander.
Much more than just a choir
Choir music has a long and strong tradition in Sweden, involving both professionals and a great many amateurs. It is a very large cultural and social movement. Although the musical genres differ between choirs, they all have one thing in common – they sing. However, Amanda does something more.
The Vocal Ensemble Amanda was formed in 1981. Some members of the Chalmers University Choir had longed for Latin American rhythms and other kinds of fun and engaging music. They also wanted to find a new type of expression. So, led by the music student Bengt Ollén, they formed Amanda. After three years, Lasse Smedlund became the new leader and he remained a leading figure in the group for many years. However, he was not a traditional leader; responsibilities were shared and group members encouraged in their individual creativity.
Several of the singers who joined Amanda had a theatrical background. Therefore, it was natural to develop the choir's activities towards dramatic expressions. Choreography was also involved from early on. Moreover, many members of the group are skilled instrumentalists and so the members provide their own accompaniment. The voices are always in the forefront but, when needed, Amanda has a rich instrumental palette to choose from – brass, woodwind, guitar, harmonica, violin, cello, percussion etc.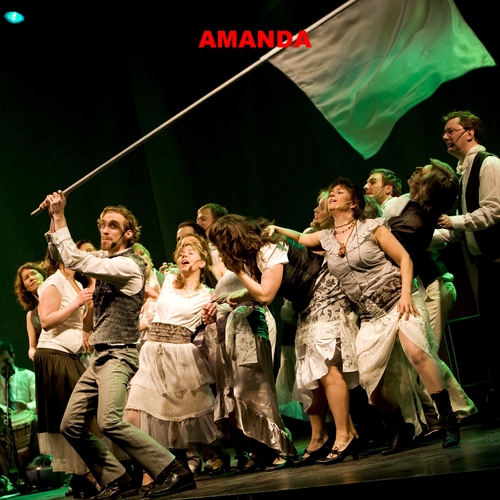 Collage productions
Although combining music with choreography and a dramatic expression, Amanda has not gone down the path of creating cohesive theatrical plays with music – such as operatic pieces or musicals. Their main artistic form of expression is instead a sort of 'collage' production, where the group performs a combination of songs and thought-provoking monologues/dialogues. The different pieces of the collage are connected to an overarching theme – reflective, philosophical and humanistic in character.
Through these performances, Amanda communicates with the audience on many levels. Like in many other forms of art, emotions, intellect, intuition and aesthetics interact. Although serious life questions are often implied, a stroke of self-reflective humour is also always involved, giving yet another dimension to the theme. These collage productions run for a month or more at suitable venues. Later, songs from these productions are included on studio recorded albums.
An expression of its own
Amanda wants to build an expression of its own. Amanda members write some of their songs, but the group also carefully choses songs by other artists. Amanda makes these songs its own by a variety of means – the song's function in the performed collage, sometimes with new lyrics in Swedish, musical arrangement, dramatic expression and choreography – in short, the group's interpretation. Moreover, all spoken parts are written by Amanda members.
The international context is important to Amanda. Its repertoire includes folk music from around the world, rock and pop songs, samba, chanson, classical art music and other genres. Among folk music, Haitian music, introduced to the group by Sten Källman, is particularly important. Haitian songs and modes of expression are often present in the Amanda productions. (The production "Hunger" included only Haitian music.) In quite another area of the folk song part of Amanda's repertoire, Nordic folk music plays an important role. The Amanda repertoire is wide and different members have brought influences from different parts of the world to the group.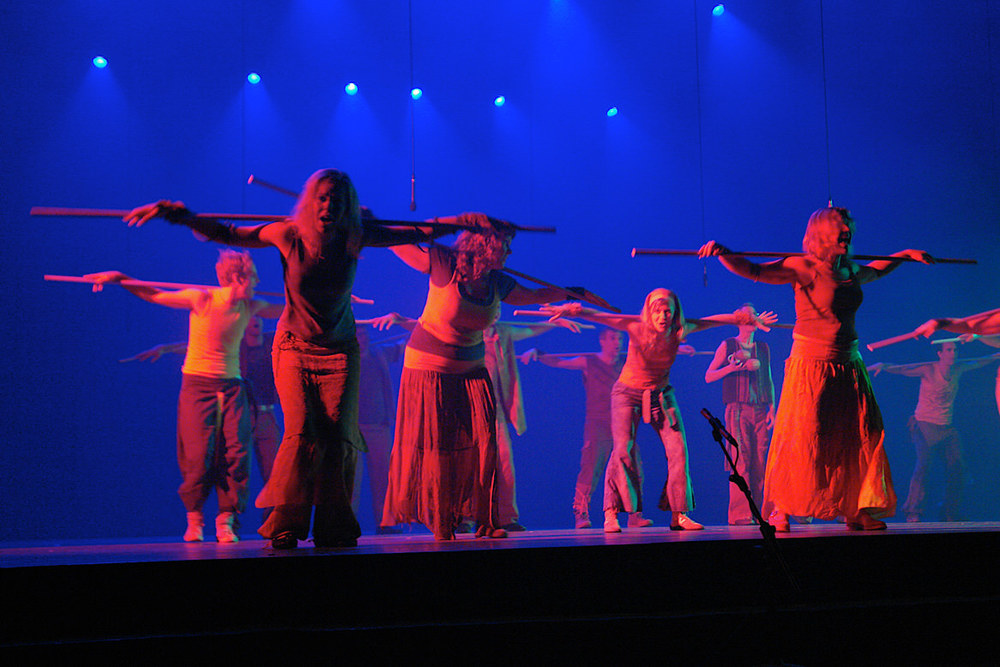 Although differing so much in character, most of the songs and spoken parts in a production follow one another in an almost seamless way. This gives few opportunities for applause such that the created atmosphere becomes increasingly intense. However, in a few instances, and at the end, Amanda leaves room for applause. It is like opening up the flood gates, releasing the audience's 'dammed' emotions.
Amanda uses single songs from these collage productions in commissioned performances. Sometimes you will also find new songs in these performances, which might foreshadow a forthcoming collage production. In the process of creating new productions, Amanda often invites audiences to 'test performances' of new material. Therefore, following Amanda is following a continuum of development.
When Amanda introduced its concept, it was a revolution to the Swedish choir community. Forty years later, it remains revolutionary. Although much appreciated, only a few groups have followed Amanda's trail.
What has kept Amanda together?
What has kept Amanda together and active for forty years? Of course, the members have changed. As Johan, Sanna and Karin point out, Amanda regenerates gradually all the time.
Regeneration is important for keeping a movement alive, but regeneration can also be problematic in terms of continuity. So, the question remains – what has kept the group together?
They all agree that the main explanation is cultural in character. It is a special way of making music together, says Johan. There is not a strong leadership in the group. Instead, ideas and visions emerge between members, where, from time to time, some members might be more active than others.
Building the next collage production, the discussions take on an increasingly clear direction over time. Eventually, decisions concerning theme, songs, responsibilities etc. are made. However, it can be hard to identify the specific points of decisions. As Karin puts it: "There are no decisions, only deliberation and actions." You intuitively know when you have reached a point from where you move forward. This, I believe, indicates a culture of friendship and trust within Amanda.
The process from the initial idea to first performance can be quite long. Sanna points out that the processes in Amanda give an opportunity to reflect on and deal with different issues of life. When I ask if this means that being part of Amanda provides a sort of therapy, they agree.
The involvement of many can be a big advantage in keeping the group together, but it can also be a source of frustration. Even if not everyone is equally involved in discussions and decisions, many are – and that can slow down processes. However, if you can build a community that both accepts this democratic culture and can find ways to improve efficiency within that culture, you build a solid base for the survival of the group.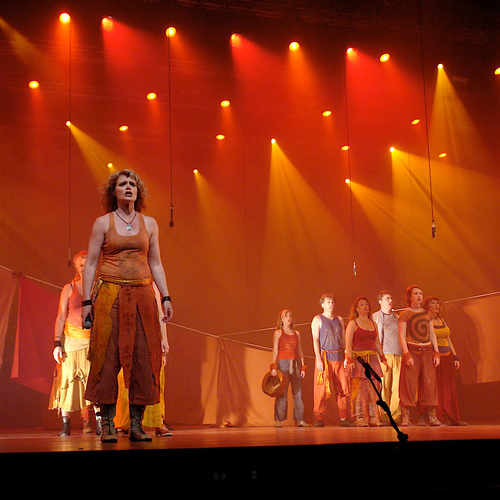 Those who are there
Improving efficiency within the Amanda culture is in fact what has happened, they say. Nowadays, they delegate more than they used to, and they accept that the more active members can influence more than the less active. You have to be there to influence. Still, as Johan points out, the involvement of many in the process feeds into the engagement in reached decisions. That is the big advantage of Amanda's modus operandi.
Actually, Sanna, Johan and Karin question the concept of membership concerning Amanda. Amanda is "those who are there". This does not mean that there is not a cohesive group of people forming Amanda. The group is quite stable over time, but of course, everyone can miss a meeting or a rehearsal or two, and sometimes people take a 'sabbatical' from Amanda due to other life commitments. While a sabbatical could be the first step toward leaving Amanda, many return afterwards.
One can understand that this conceptualisation of Amanda – those who are there – corresponds to a practical need in terms of being able to move forward as a group. Early on in the interview, they question the membership concept in a more spiritual way – as if Amanda were an organism with a personality of its own. In Sanna's words: "You are not a member of Amanda – you have a relation to Amanda."
Moreover, there is an artistic council within Amanda. This group of members does much of the planning, including of human resources. It tracks recruitment needs and is where members turn to when they plan to change their involvement in Amanda. However, when the artistic council meets, everyone is welcome to attend. Forming this council is a way to allocate responsibility, not to exclude.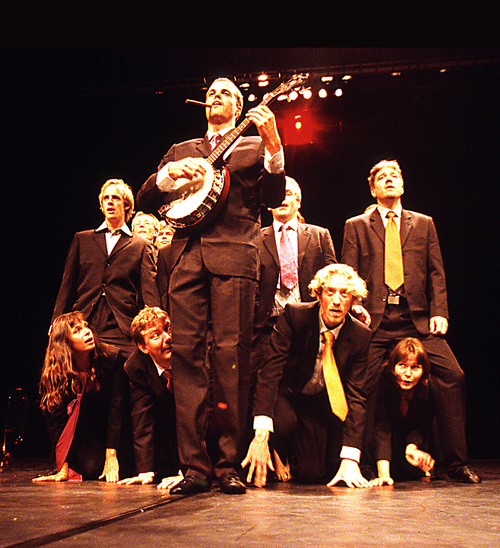 Success and self-confidence
Amanda's very first collage production "Leakage" (Läckage) was a big success. It premiered at a small theatre in Gothenburg in May 1988. It was highly innovative and the reviews were very appreciative. This created the image of a high-quality group – with critics, audiences and within Amanda. This first success set the level they have always tried to match since then, an ambition that adds to the attraction of being part of Amanda.
Success could encourage the belief that your next production needs to copy the main features of the first one to be successful again, such that you become stuck in a pattern (and also risk boring your audience). However, Amanda identified this problem early on and, instead of looking back, the Amanda community believed in their ability to develop new successful production concepts and trusts that they will turn out well.
The title of Amanda's latest production (2016) was "Help" (Hjälp). Usually an Amanda production comprises music by many different songwriters. This was not the case with "Help". All songs were original Beatles songs, "Help" of course being one of them. It goes without saying that Amanda did not want to make this production a string of Beatles covers. Each song had a meaning in the theme of the production and, as usual, Amanda's interpretations were very special and engaging – often with new Swedish lyrics, relating to both contemporary and eternal conditions of life.
Amanda performed "Help" at a small venue with the audience sitting in the formation of a horseshoe reaching out from a stage. Many songs were performed from the open space in the horseshoe, like in a circus, with the audience very close to the performers. Some of the songs were performed from the stage, or in a combination of the two. It was a very dynamic and beautiful production.
Professionals or not?
Over the years, Amanda has created seventeen original productions performed at small and large concert halls, theatres and churches. Amanda has also performed many one-off events.
Everyone in the group has a musical background of some sort. There are quite a few trained musicians and actors in Amanda, and they work professionally as such outside the group. They bring their professional experiences to Amanda. You can also find people from many professions in the group, including medical doctors, teachers, systems analysts and an artist. As all of the revenue from performances goes to the costs of the group, everyone earns their living outside Amanda. Although Amanda's performances are very professional in terms of artistic quality, no one is in the economic sense a professional within Amanda.
Many are also involved in sub-groups within Amanda and music constellations outside the group. Amanda is an important junction in a large musical network in Gothenburg.
Again, one might wonder if the features of Amanda have been a disadvantage or an advantage to its development. More money could of course have helped on some occasions, but being a more commercially oriented act might have meant that Amanda was not the group it is today – it might not even exist. Movements of ideas and people can sometimes be more sustainable than companies are. As Sanna puts it – passion, not money, keeps Amanda going. Moreover, Sanna, Karin and Johan point to the friendship and affection that keeps Amanda together. People in Amanda genuinely like each other as persons and friends.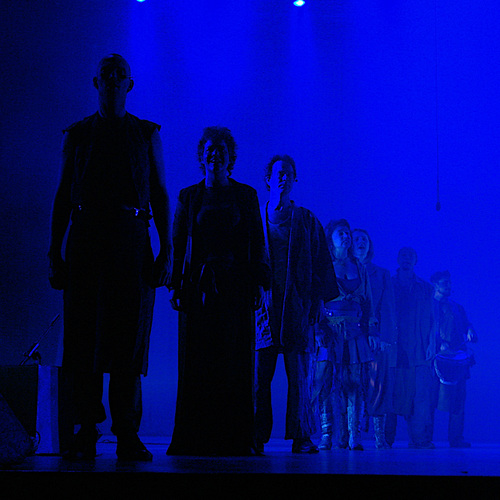 Recruitment and regeneration
Amanda comprises men and women of very different ages, including those who have participated for a very long time and those who are young and new to the group. New members are recruited when people leave or when changes to the repertoire demand a new specific set of voice types.
Over the years, the recruitment method has changed from informal, based on knowledge about the music network around Amanda, to become more formal, using auditions. To be accepted as a member you have to be an excellent singer and the ability to play one or several instruments is a great advantage. You do not have to be a trained actor or dancer, but since dramatic expression and moving your body in accordance with a choreography is important, you need some sort of base from which to develop those qualities within Amanda. The group is like a university of its own, where you learn all the time from each other and from common experiences.
Last, you need to be comfortable with the culture of Amanda, and so interviews are part of the process. However, not all stay as they find that they do not feel at home in 'the organism' Amanda. To be part of Amanda requires a lot of patience, tolerance, respect, creativity and openness to new ideas – but also the ability to accept realities.
An impossible equation
Sanna says that combining the different features and ambitions of Amanda should be an impossible equation. However, the group has repeatedly solved the equation for forty years! This does not mean that there have not been crises. The three laughingly claim that Amanda is a constant crisis, but group members can evidently cope with the difficult features of Amanda. They can even laugh at the problems and appreciate that these challenges also offer enjoyment and possibilities. As Karin says, in crises Amanda shows unbelievable strength and human warmth.
Amanda reaching out
Most of the Amanda performances take place in its hometown, Gothenburg, but it also performs in other Swedish cities on occasion, and has performed in Germany, France, Spain, Holland, Senegal, Brazil and Cuba, at festivals, touring and one-off events. The group has not yet been to Haiti, but has collaborated with Haitian performers in creating performances with a Haitian theme in Sweden. International collaborations mean a lot to Amanda, and touring welds the group together.
A special moment of collaboration and inspiration occurred when the Spanish musician David Costa saw Amanda perform in 1999 and was inspired to start a group combining different forms of expression, as Amanda does. He formed the group Cor de Teatre, which resides not far from Barcelona. Later Costa created a younger group on the same line – Cor de Teatre Joves. This initiative in turn inspired Amanda to start the group Young Amanda (Unga Amanda) to pass on the legacy of Amanda to a younger generation.
With the leadership and guidance of Amanda seniors, Young Amanda has created one production ("Passage") to date. In September 2019, Cor de Teatre Joves and Young Amanda met in Gothenburg, performing one production each. Then the pandemic arrived, hindering further projects and collaboration.
Young Amanda is part of a broader approach to outreach, named Amanda Academy (Amanda Akademi) with activities targeting different age groups: children aged 6-9 (Small A / Lilla A) and children aged 10-12 (Middle A / Mellan A).
Within the Academy, Amanda also offers courses and workshops to adults led by Amanda members or sub-groups, dependent on their specific competence, interest and availability. You can say that Amanda is the communication platform for a wide variety of outreach activities, all in one way or another inspired by the Amanda approach to performing. The purpose of all activities within the Amanda Academy is to spread and pass on the Amanda legacy.
A developing legacy
However, the legacy itself is still developing in terms of new songs, arrangements, productions and collaborations. Amanda does not want to repeat itself, and one can be sure that a new and different production will soon be part of the Amanda legacy. The Vocal Ensemble Amanda will be around for many more years!
(Photos from Amanda's website.)
________________
Trailers from the production 'Larm'
Short version
Long version
A selection of albums and songs